ESP8266 ESP-201 module - antenna troubleshooting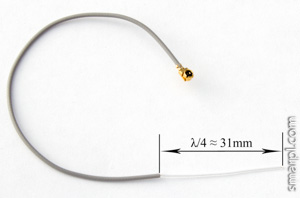 ESP-201 external monopole antenna
(λ - 2.4GHz wavelength - 125mm)
ESP-201 module has two antenna options:
on-board so-called "inverted F antenna"
external antenna plugged into U.FL connector
The antennas are not intended to work simultaneously. By default ESP-201 board has external antenna selected. To use on-board antenna, the jumper (0 Ohm SMD resistor) should be resoldered as shown on the following pictures.
External antenna selected (default)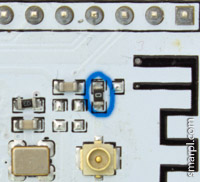 On-board antenna selected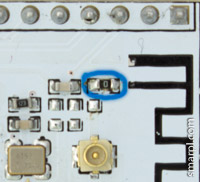 Unfortunately the module has very poor WiFi range with the external antenna. After a quick inspection I found that the U.FL connector is placed incorrectly and in fact is SHORTED. The following picture shows what exactly is going on - central pin of the connector is soldered to ground.
(outer part of connector is removed)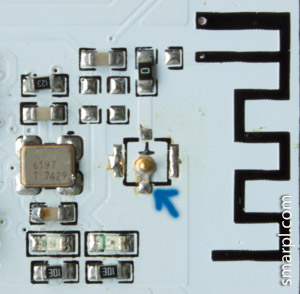 The solution is simple - resolder the U.FL connector rotated by 180 degrees.
Note, this is not a kind of fundamental design problem, It's a trivial manufacturing bug. Modules from newer batches may be not affected. Check the connector of your module for a short circuit with a multimeter before doing any soldering work.